I would like to introduce you to our recent addition to the Station Adopters Group on the Cross City North. The Friends of Shenstone Station 1884 who were formed earlier this year and are aptly named after the year in which the station was built, currently the group is made up by four local volunteers: Jane Arnstein, Tim Arnstein, Anne Thompson and Paul Willimott. The group have already have quite a few schemes in the pipeline and are really enthusiastic in bringing a local community ethos to the station.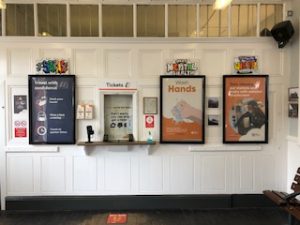 After the group received safety briefings on the 11th May, the ink wasn't even dry on the briefing signature sheet before they launched into the first of many schemes which also coincided with Mental Health Awareness Week. Team member, Jane Arnstein said;
"Today Hayley, the station colleague, and I exhibited the YMCA Sutton Coldfield art exhibition. The exhibition has a theme of mental health and the particular issues young men face in this sphere. I have to say, I think the canvas' look spectacular! And are timely as this is mental health awareness week."
"I've also written to Shenstone Magazine to hopefully get the exhibition promoted in next months edition. I also intend to wrote to City Life in Lichfield to promote the group, the exhibition and YMCA Sutton Coldfield."
Many thanks to Hayley for your help this morning.
Station manager Dave Harris would like to give a very warm welcome to the group and to wish them well with their future ventures as The Friends of Shenstone Station 1884.