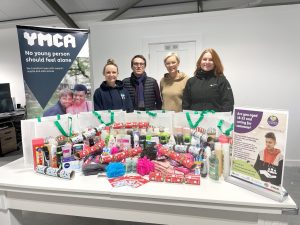 As we approach one of the hardest times of the year for Young Carers and their families, local businesses owners are coming together to show Sutton Young Carers they're not alone.
Brand and Web Agency PLOTT have drummed up support from fellow businesses to buy Christmas care boxes for the YMCA Sutton Coldfield Young Carers Care Box appeal.
The team at PLOTT have been busy making up boxfuls of essential personal care items as well as specially selected goodies for the children and young adults aged 5 – 25 who attend the YMCA Release Young Carers project.
Joining PLOTT is fellow Chamber member Claire Greenwood from G Comms who is  donating £250 in vouchers to make the care boxes even more special. Katie Hale from Halestorm Marketing and Anita Ellis from Lexicomm have also joined the cause to spread a little joy after such a tough year.
PLOTT have also commissioned local artist Sabina Gran to design a charity colouring-in poster for the cause to encourage mindfulness at a particularly challenging time of year.
Anna Plotnek, MD at PLOTT, explains why the cause is so important:
"It's been a tough year for everyone but the pandemic has been particularly hard on those caring for others. The YMCA do an incredible job for Young People in Sutton and we want to show them that they're not alone.
The contents of these boxes are things that we all take for granted. So it's a poignant reminder about helping those in need in our community."
The Young Carers project provides support and respite for vulnerable Young Carers who often can feel isolated and alone, especially at Christmas.
Alan Burrows, YMCA Project Manager and founder of the campaign, says the growing support is overwhelming:
"The Christmas Care box appeal is so important for families that are struggling financially. But it's also vital for raising awareness of the struggles in our local community and awareness of the sheer number of young people in a caring role."
Katie Hale from Halestorm Marketing has worked closely with the charity since they were selected as the Chamber's Charity of the Year:
"A huge thanks to PLOTT who have supported the Young Carers Appeal for the second year. Charities such as YMCA Sutton Coldfield rely heavily on help from the local community and these children and young adults need our support more than ever."
#PLOTT #G COMMS #LEXICOMM #HALESTORM MARKETING #YMCASC CARERS # CHANGING LIVES