The YMCA Sutton Coldfield has given me a truly amazing life experience. From the moment I arrived, I knew that I had found my calling in Social Work. I've had many, many memorable moments that took my breath away and I will never forget the incredible stories of the families I worked with.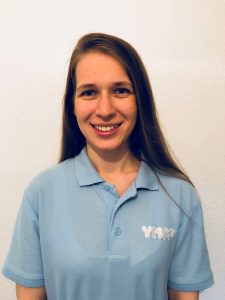 When I first heard about the opportunity to do volunteering abroad through EVS, I imagined an amazing experience helping communities and people in need. But it was so much more than I imagined or expected. 
When I moved to the UK, I didn't speak fluent English and I didn't know anything about British culture. Sometimes, I had funny encounters because of the language barrier but I never felt like a stranger. From the very first minute, everybody was so supportive; I felt myself very lucky. 
During my volunteering year, I got to work on so many different projects with different aged children, young people and adults. But I learnt not only about the different projects, I also learnt a lot about myself. I had not expected to find that the frustrations and problems of the Z generation are worldwide; young people who knew what they wanted to achieve when they were younger but as they get older, they forget their goals and stop believing in themselves.  This experience has taught me that we must not forget to focus on helping the younger generations; when teenagers find themselves without the support of parents, teachers of youth workers, they can get into trouble very easily.  
What I love about the YMCA Sutton Coldfield is that they can support the whole family.  As well as supporting the young people in need, they also help the parents and siblings. My highlight was the time I spent on the Release Project which gives Young Carers a few hours a week that belong only to them. I will never forget the conversations with these Young Carers, learning about their incredible stories and how they care for their parents or siblings.
My time here has taught me that everybody is unique. Everyone is good at something but some people may hide their special skill or may not have discovered it yet. I know now that wherever life takes me, it will involve social work and helping young people in need.